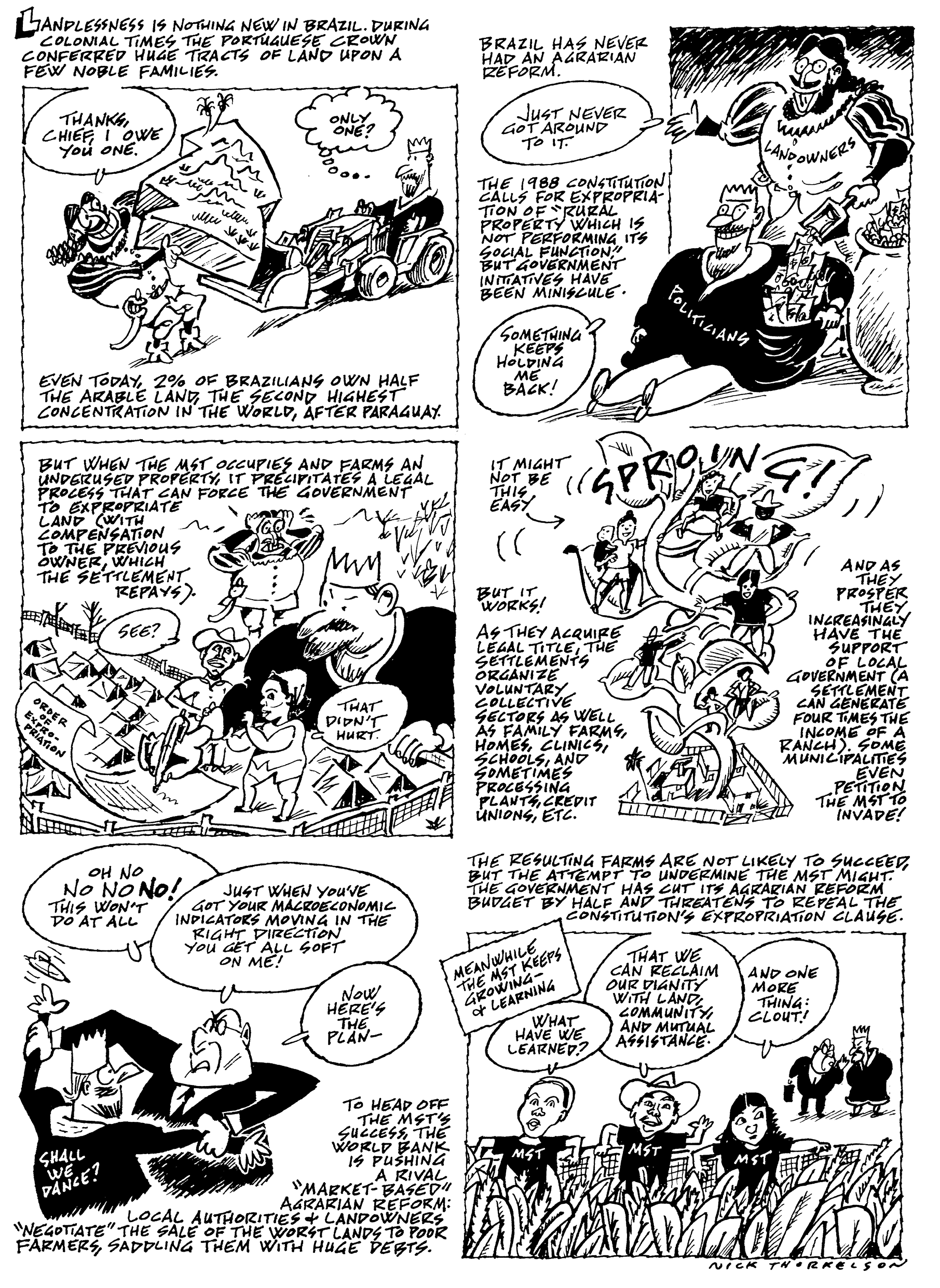 For further information, the MST maintains an excellent website in English where you can get up-to-date information about the organization. Global Exchange maintains a monitored, low traffic Friends of the MST listserve at www.globalexchange.org/getInvolved/lists.html. Or check out the new MST documentary "Strong Roots/Raiz Forte".
The above comic was done for the November/December 2001 issue of Dollars & Sense magazine. It is the latest in a series of 2-page comics about economic globalization and neoliberalism. To see the rest of the series, go to The Comic Strip of Neoliberalism.
I have had the indispensable assistance of Dollars & Sense editor Alejandro Reuss in shaping this project, and on this particular installment I also had help from Jack Spence of Hemisphere Initiatives, Frances Moore Lappe of Food First, and Maria Aguiar, Kevin Murray, and Jennifer Lemire of Grassroots International. Our goal is to collect these 2-pagers into a comic book that can be used as a primer for people interested in the emerging anti-globalization movement. Since this is an ongoing project and these pages are likely to be revised before the comic book version comes out, I am very interested in hearing suggestions from people with knowledge of this subject. Drop me a line.
For a PDF version of the above comic, click here. (Comics in PDF format don't look so good on a computer monitor but will look much better when printed than the version above. If nothing shows up when you try this link you might need the Adobe Acrobat plug-in -- it's downloadable from the Adobe Corporation.)
Return to The Comic Strip of Neoliberalism.
Return to Thorkelson Graphics.