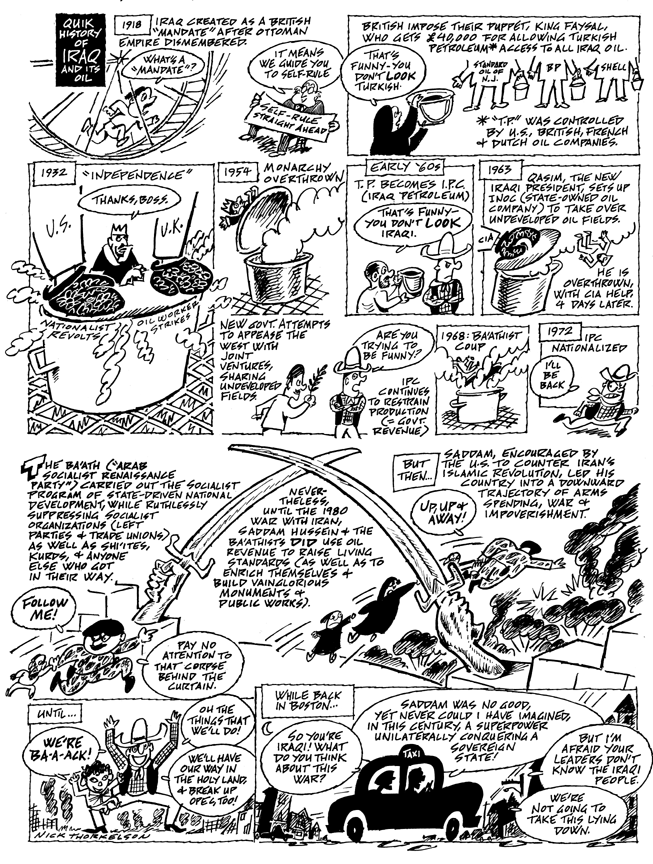 For updates on Iraqi oil politics, see the British website carbonweb.
This comic was done for the September/October 2003 issue of Dollars & Sense magazine. It is part of a series of 2-page comics about economic globalization and neoliberalism. To see the rest of the series, go to The Comic Strip of Neoliberalism. I have had the indispensable assistance of Dollars & Sense editor Alejandro Reuss in shaping this project. On this particular installment I am also indebted to Subrata Goshroy, who reported the conversation in the taxicab, and Brian Peterson, whose e-zine Miami Educational Review was the source of most of the historical data. Thanks especially to Vivion Venson, whose excellent "Iraq Democracy Watch" blog keeps up with these developments day by day.
My goal is to collect all of my neoliberalism 2-pagers into a comic book that can be used as a primer for people interested in the emerging anti-globalization movement. Since this is an ongoing project and these pages are likely to be revised before the comic book version comes out, I am very interested in hearing suggestions from people with knowledge of this subject. Drop me a line.
If you want a hard copy of the above comic, click here to download the PDF version.
Return to The Comic Strip of Neoliberalism.

Return to Thorkelson Graphics.